Katherine Peeters
Hi! I hang around on IRC, mostly #loh-en, and live in Vancouver.
If you're going to send me an email, please encrypt your message with my OpenPGP key.
Email: katp32@bytecrab.org
IRC: katp32 on various networks (LOHIRC, SlashNET, LiberaChat)
I am officially IPv6 Certified™ by Hurricane Electric
Bask in the glory of this certificate, which was granted to me due to Bytecrab.org's award-winning IPv6 support: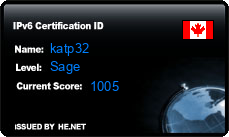 By award-winning I mean the baseline that all server administrators should strive for. You can get your very own certificate from the link below. Put it on your website, put it on your resume, put it in a framed photo! Oh, it also comes with a free T-shirt.
Posts
All of these are also available via the RSS feed.